Published by Irène Nordgren on 21 Mar 2017
Läser i dagens NCR en artikel om dödsstraff i USA som inleds med situationen i Arkansas.
"States debate death penalty issues"

https://www.ncronline.org/news/justice/states-debate-death-penalty-issues


Senare ikväll ser jag en repris av Korrespondenterna på TV som tar upp ämnet abort bla från Arkansas där lagstiftningen skärpts på olika sätt och där det framkommer hur abortmotståndare med plakat står utanför en klinik för abortsökande kvinnor och verbalt angriper dessa kvinnor som går in i kliniken.
http://www.svtplay.se/video/12885028/korrespondenterna/korrespondenterna-avsnitt-1-3?start=auto&tab=senaste

"A pregnant woman's husband will have the power to stop her from having an abortion, even in cases of spousal rape, under a new law introduced in the US state of Arkansas. "
Most second trimester abortions will also be banned by Act 45 – the Unborn Child Protection From Dismemberment Abortion Act – which will make it possible for husbands to sue doctors who carry out abortions for civil damages, or get an injunction to block the termination.
The pro-life law, which was pushed through in just two months by the state's Republican government, prohibits all dilation and evacuation (D&E) procedures, in which the physician removes the foetus from the womb with surgical tools.
D&E procedures are the safest way for women to end their pregnancies after 14 weeks of gestation, according to the American Medical Association.
But the medical procedure will now become a felony in the southern state, punishable by a $10,000 fine or six years in prison."
http://www.independent.co.uk/news/world/americas/arkansas-abortion-law-that-will-let-rapists-sue-victims-husbands-second-trimester-a7561066.html
// Irène
PS Intressant sammanträffande idag att få synen på abort och dödsstraff i USA presenterad i allmänhet och Arkansas i synnerhet.
"Capital punishment is a legal penalty in the U.S. state of Arkansas."
https://en.wikipedia.org/wiki/Capital_punishment_in_Arkansas
Här en överskådlig bild över olika staters lagstiftning kring dödsstraff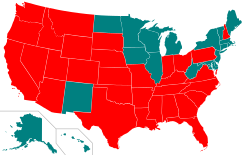 A map showing the use of the death penalty in the United States by individual states. Note that the death penalty is used throughout the United States for certain federal crimes.
rött = States with a valid death penalty statute
blått = States without the death penalty
Även abortsituationen i katolska Polen togs upp i Korrespondenterna.

http://www.svt.se/nyheter/utrikes/hon-gjorde-illegal-abort-jag-vralade-av-smarta
Intressant är att Lag och Rättvisa (PIS) i Polen – som har ideologiska band med katolska kyrkan – och som vill förbjuda abort samtidigt är det parti som så sent som 2004 föreslog återinförande av dödsstraff men som röstades ned av parlamentet med knapp majoritet.
Inom EU är dödsstraff avskaffat – konventionen om mänskliga rättigheter. I Europa är det bara Vitryssland som forfarande utdömer och verkställer dödsstraff och kan därför ej bli medlem i Europarådet.