Published by Irène Nordgren on 04 maj 2021 at 11:08 e m
Under gudstjänster 8 – 10 maj 2021 kommer kärlekspar runt om i Tyskland att kunna få välsignelse. Såväl homosexuella som frånskilda par som hittat ny partner.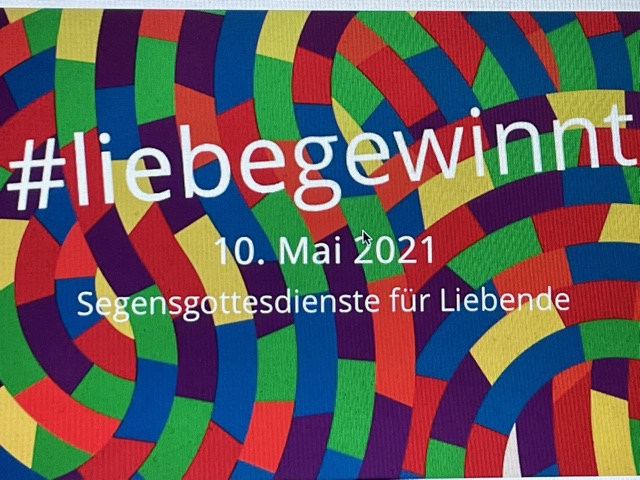 Här publiceras lista på gudstjänster / platser / tider runt om i Tyskland där välsignelser ges 8 – 10 maj. Jag räknar till 96 olika gudstjänster ! https://www.liebegewinnt.de/gottesdienste/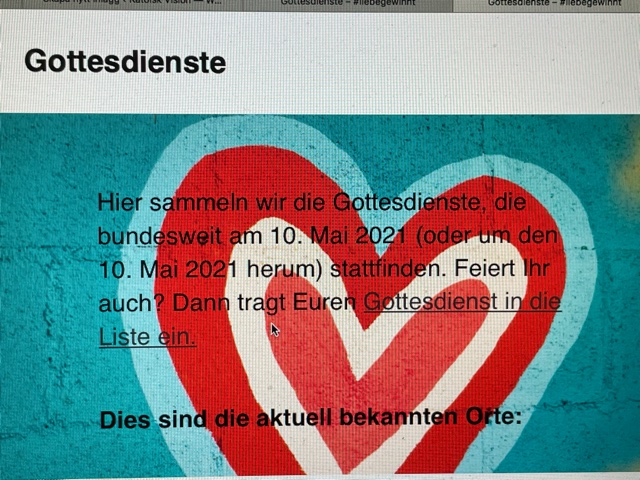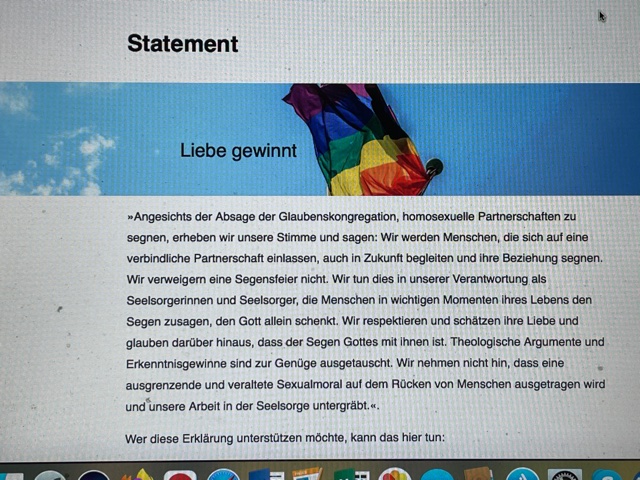 STATEMENT https://www.liebegewinnt.de/statement/
"Kärleken segrar" "Med hänsyn till att Troskongregationen sagt nej till att välsigna homosexuella partnerskap höjer vi vår röst och säger: " Vi kommer även i fortsättningen att följa och välsigna människor som ingår i förpliktigande partnerskap. Vi förvägrar inte ett välsignelsefirande. I vårt ansvar som själasörjare lovar vi människor i deras viktiga stunder i livet den välsignelse som bara Gud skänker. Vi respekterar och uppskattar deras kärlek och tror att Guds välsignelse är med dem. Nog med teologiska argument och kunskapsutbyten. Vi accepterar inte att människor belastas med en exkluderande och föråldrad sexualmoral och som undergräver vårt arbete inom själavården. "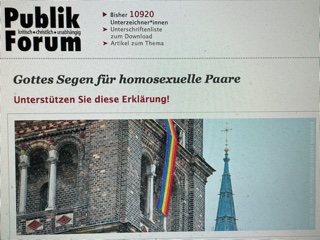 Här går det att stödja aktionen med sitt namn https://aktion.publik-forum.de/?idende=20219631&idw=20219880
AMERICA Magazine "Catholic parishes in Germany to include gay and lesbian couples in planned 'blessing services for lovers' "
https://www.americamagazine.org/politics-society/2021/05/03/germany-catholic-chaplains-blessings-same-sex-couples-240577
The Tablet https://www.thetablet.co.uk/news/14106/dozens-of-catholic-parishes-plan-gay-blessings
// Irène
PS Biskop Bätzing ordförande för Tyska biskopskonferensen säger i ett pressmeddelande bla : "Självklart har homosexuella människor och även de som lever i samkönade relationer en plats i kyrkan. Vi välkomnar dem"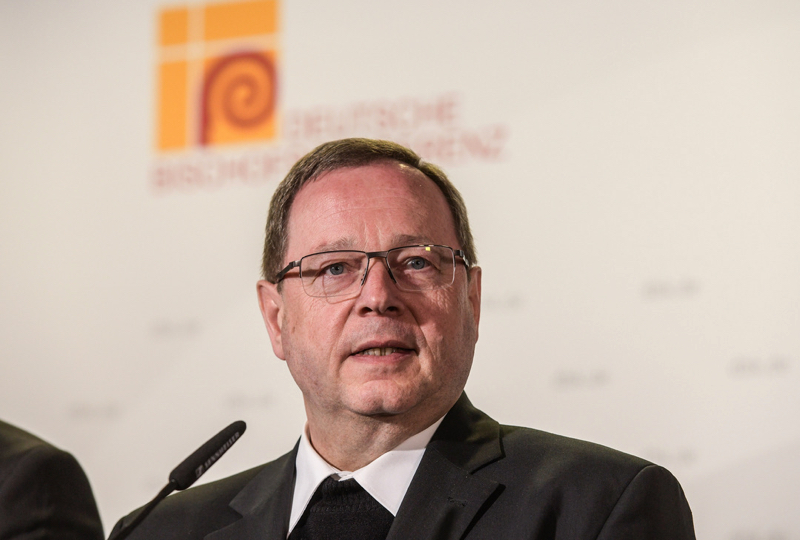 Biskop Bätzing vänder sig dock mot den offentliga aktionen 10 maj och menar att kyrkans sexualmoral inklusive frågan om homosexualitet fortsättningsvis ska vidareutvecklas men hållas inom Synodala Vägen.
https://www.dbk.de/presse/aktuelles/meldung/bischof-baetzing-zum-aufruf-von-bundesweiten-segnungsgottesdiensten-fuer-liebende
Här är Troskongregationens svar från den 15 mars 2021 ang välsignelser av samkönade relationer
"Responsum of the Congregation for the Doctrine of the Faith to a dubium
regarding the blessing of the unions of persons of the same sex"
TO THE QUESTION PROPOSED:
Does the Church have the power to give the blessing to unions of persons of the same sex?
RESPONSE:
Negative.
https://press.vatican.va/content/salastampa/en/bollettino/pubblico/2021/03/15/210315b.html
Troskongregationens svar kan jämföras med lika vederhäftiga "DEKLARATIONEN om pastoral omsorg om vänsterhänta" från 2008.
"DEXTERA DOMINI" är min absoluta katolska favvodeklaration -skriven av någon med oerhört djup katolsk teologisk kunskap och stor katolsk vishet.
Citerar inledning och valda stycken ur "Dextera Domini: the Declaration on the Pastoral Care of Left-Handed Persons"
"THE RIGHT HAND of the Lord has adorned his spotless bride, the Church, with many wondrous gifts, not the least of which is the supreme ministry of defending the arsenal of Christian truth. Through the wisdom of a provident God, this congregation, the watchdog of the household of faith, exercises diligent custody over the sacred deposit of doctrine, guarding it like a talent buried in the sand (Matt. 25:25)."
"Having already disposed of other perversions, it becomes necessary to speak out with the profound disgust regarding yet another aberration which, like the pulling of a polyester fiber, threatens to unravel the seamless garment of faith."
"This particular menace has been propagated by those who, basing their opinions on spurious sophisms of the psychological and behavioral pseudo-sciences, claim that it is acceptable, or even normal, to use the left hand when engaging in manual activities. In the face of tradition and right reason, they point to a small but vocal minority of individuals who primarily use their left hands or purport to be bimanual. With callous disregard for the natural order they judge indulgently, and even excuse completely, sinistral behavior, that is, the indiscriminate use of the left hand in the place of the right. Such an insidious abuse is defended as though there were no difference between right or left, Jew or Greek, male or female, slave or free (Gal. 3:28).
"For while it is neither possible nor desirable at present to decide whether this disorder is genetic in origin or merely the result of repeated nasty thoughts, in either case one may never argue that left-handedness is compulsive and therefore excusable. It is, of course, necessary to take note of the distinction between the sinistral condition and the individual left-handed actions, which are intrinsically disordered and utterly wrong."
"And although the particular inclination of the left-handed person is not necessarily a sin, it is a more or less strong tendency ordered toward an intrinsic moral evil, and thus the inclination itself must be seen as an objective disorder. Therefore, both the condition and all acts flowing from it are to be condemned, as are all those who suffer from it or engage in it, and everyone who thinks like them or defends them or befriends them, into everlasting torments in the lowest pit of hell where the lake of fire is never quenched and the worm dies not (Mark 9:48)."
Läs forts nedan
http://rosemaniple.blogspot.com/2008/05/dextera-domini-declaration-on-pastoral.html
Leave a Reply