Published by Irène Nordgren on 14 mar 2015 at 08:54 e m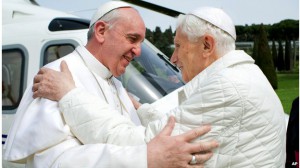 "Pope Francis praised Pope Benedict's decision to resign in 2013"
13 mars 2015 är Franciskus 2-årsdag som påve.
Kommer Franciskus att göra likadant som sin företrädare Benediktus  XVI ?
Att avgå och bli ex-påve ?
Rykten går sedan Francikus förra året gjort antydningar om detta.
BBC  fångar upp Franciskus uttalande i Mexikansk TV 2014
"Pope Francis has suggested he may resign his papacy like his predecessor, rather than remain at the Vatican for life. The pontiff made the comments during a interview with Mexican television, marking the second anniversary of his election. "I have the feeling that my pontificate will be brief. Four or five years; I do not know, even two or three," he said. He praised Pope Benedict's decision to step aside in 2013 as "courageous". "Benedict should not be considered an exception, but an institution. Maybe he will be the only one for a long time, maybe he will not be the only one."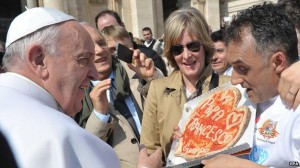 "The pontiff revealed he missed being able to do simple things like visiting a pizzeria without being noticed"
http://www.bbc.com/news/world-latin-america-31875507
CNA  refererar 2014 från  Spanska tidskriften "La Vanguardia"  där Franciskus får frågan

"What do you think of the renunciation of Benedict XVI?
Pope Benedict has made a very significant act. He has opened the door, has created an institution, that of the of the eventual popes emeritus. 70 years ago, there were no emeritus bishops. Today how many are there? Well, as we live longer, we arrive to an age where we cannot go on with things. I will do the same as him, asking the Lord to enlighten me when the time comes and that he tell me what I have to do, and and he will tell me for sure."
http://www.catholicnewsagency.com/news/pope-francis-interview-with-la-vanguardia—full-text-45430/
Ulla Gudmundson ex-ambassadör vid Heliga Stolen säger idag i Sveriges Radio
"Vi vet ju inte exakt vad han menar eller när han börjar räkna"
Hur kan Franciskus hittills beskrivas ?
Sr Madeleine Fredell skriver om  "Franciskus – en rubrikernas påve"
"När jag säger att han är en rubrikernas påve så betyder det också att han faktiskt talar så att sociala media kan använda honom. Hans kortsatser lämpar sig utmärkt för twitter till en del traditionella katolikers förskräckelse."
Franciskus på 90 sekunder
http://www.bbc.com/news/world-europe-26553476
// Irène
Leave a Reply