Published by Irène Nordgren on 27 jun 2019 at 05:17 e m
Först avpolleterar Franciskus värstingarna inom katolska kyrkan -kardinal Burke och kardinal Müller – från strategiska tjänster i Vatikanen. När dessa bromsklossar är ur vägen ordnar vår latinamerikanske påve en Amazonsynod. Vem tillsätter Franciskus som ansvarig att utforma ett arbetsdokument – Instrumentum Laboris? Jo den (ö)kände förespråkaren för gifta OCH kvinnliga präster biskop Erwin Kräutler.
"Bishop Franz-Josef Overbeck of Essen has called for a new "image of priest" in light of the fact that, in the Amazon region, there are often women religious who are influential in the local parishes.
"The face of the local church is female," said Overbeck, who is the head of the German bishops' Latin America commission, which provides financial and pastoral support to Latin America.
Overbeck said that the Amazon Synod will lead the Catholic Church to a "point of no return" and that, thereafter, "nothing will be the same as it was". Bishop Erwin Kräutler, a proponent of married and female priests, is the author of the working document for the upcoming Synod."
https://www.thetablet.co.uk/news/11670/why-amazon-summit-could-change-the-church-for-ever-
Bra att Life Site håller oss informerade och rapporterar om vad som händer i det fördolda! Vad som är dåliga och goda nyheter är det läsaren som avgör !
https://www.lifesitenews.com/blogs/cardinals-bishops-who-back-womens-ordination-secretly-meet-near-rome-to-prepare-for-amazon-synod
// Irène
PS
https://www.vaticannews.va/sv/vatikanen/news/2019-06/amazonassynoden-instrumentum-laboris-publicerad.html
Här en intervju på tyska med biskop Erwin Kräutler från febr 2016
En superimponerande biskop ! En sann kristen förebild! https://www.youtube.com/watch?v=tQMlgj03cNc
Honom borde biskop Anders inbjuda till Stockholms Katolska Stift som en motvikt till högerextremismen som här tillåts bre ut sig inom de katolska leden!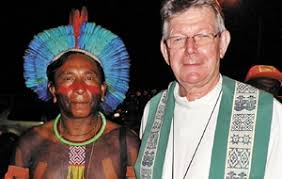 Leave a Reply