Published by Irène Nordgren on 12 mar 2013 at 10:59 f m
Bengt
Jag håller med dig om att det lilla middagssamtalet  – som du uppmärksammar på din blogg – mellan Robert B. Moynihan (Inside the Vatican – The Moynihan Letters) och en av hans förtrogna  kvinnliga  Vatikankännare  är mycket spännande och intressant.
Vad händer i Vatikanen? Vi fortsätter att undersöka källorna till mediauppgifterna om Vatileaks.
Kvinnan karaktäriserar den avgående påven som "professorn som blev general."

"Han var professor hela sitt liv och han var professor också  som påve.  En  tysk  professor  med allt vad det innebär.  Ordningsam, tydlig och grundlig. Men också djup, övertygande  och klargörande."

"Men mot slutet av sitt liv blev han en general som började striden."
Så beskriver kvinnan  hur maktkonstellationer, gruppbildningar och allianser  ser ut inför dagens konklav.
Alltså precis så som det ser ut i vilket politiskt parti som helst inför valet av en partiledare.
"En grupp är runt kardinal Sodano-Re, Ruini, Sardi, Sandri."
"they are sometimes called "Sodane con Maciel" for "Sodale con Maciel" ("in solidarity with Maciel"). They resisted Scicluna's exposure, on Ratzinger's orders, of the activities of Maciel. By the way, do you know that Ratzinger held back the last Conclave, in 2005, for several days so that Scicluna, who was traveling in the United States, could take depositions on the case and bring them back to Rome before the opening of the Conclave, so that Ratzinger would have the evidence he needed?"
Så har vi gruppen "Arsenik och gamla spetsar"  som består av de fromma, liturgiskt konservativa.
"Well," she said, "then there is the group some here call 'arsenico e vecchi merletti' or 'arsenic and old lace' — the pious ones, generally liturgically conservative, including Piacenza, Guido Marini, and some Italian bishops, like Bagnasco and Moraglia."
Och så tredje gruppen Bertoniani dvs de som står statssekreteraren Bertone nära. De utmärks för sitt intresse för  businessbranchen.
"Then there are the 'Bertoniani,' the ones around Cardinal Bertone. Their common characteristic is their interest in 'affari,' doing business. This group includes Versaldi, Calcagno, De Paolis, and also Marco Simeon, the layman from Genoa."
Vem som vinner och vem som insider kvinnan skulle önska vinner ?
"Well, the Curia will propose one or two solutions, first Scherer, then someone else.
But what the Church needs is someone who can unite Europe, North America and South America, and the sole solution is O'Malley. And you would be amazed at how much he is loved here in Italy. The Italians just love him. He reminds them of Padre Pio. He would be a fantastic choice for most Italians."
"Lösningen är O'Malley- älskad av italienarna. Han påminner dem om Padre Pio.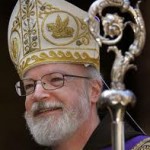 Man kommer också att försöka välja Scola han är också en bra man men jag tror inte han är rätt man."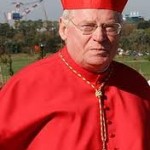 "There will be an effort made to elect Scola, and he also is a good man, but he doesn't seem to me to be quite the right choice. I'm not sure whether the cardinals will unite in support of him. Even among the Italians there are a number of cardinals who are not enthusiastic about him. But if they choose an Italian, he is the most likely."
Och din egen favorit frågar Robert B. Moynihan kvinnan.
Hon tittar på honom och ger honom ett stort leende.
"Schönborn"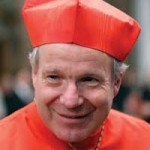 "Because he has so many enemies!" she replied. "And because I know him personally. Sodano is against him, because Schoenborn criticized him. And Bertone too. Everyone is against him. But he is educated — he studied under Ratzinger, he was Ratzinger's student — he is cultured, refined, eloquent, noble, handsome — especially handsome!"
http://themoynihanletters.com/from-the-desk-of/letter-42-alpha-and-omega
// Irène
PS  Schönborn är också min favvo.  Han är den kardinal som jag tycker mest och bäst hittills lyckats  möta  den moderna världen "Utgå från människan inte lagen." säger han i en intervju som imponerade på mig.
http://www.katolskvision.se/blog/?p=5465
Men jag vågar inte hoppas på Schönborn.
Snart kommer  "Yttersta domen "……….