Published by Irène Nordgren on 02 sep 2017 at 12:16 e m
America 31 augusti
Jag läser hur kardinal Sarah vänder sig mot James Martin SJ och boken "Building a Bridge: How the Catholic Church and the LGBT Community Can Enter Into a Relationship of Respect, Compassion, and Sensitivity."
"Kardinal Robert Sarah, ständig försvarare av Katekesens katolska lära om mänsklig sexualitet, motsätter sig argument som presenteras i en bok av en populär jesuit som menar att kyrkan måste bli mer respektfull mot katolska homosexuella. Istället säger kardinal Sarah har katoliker skyldighet att påminna homosexuella om att homosexuella handlingar är syndiga."
Kardinalen fortsätter "HBTQ människor är alltid goda därför att de är Guds barn. Men homosexualitet står i konflikt med den mänskliga naturen och sexuella relationer mellan 2 människor av samma kön är en svår synd och skadligt för hälsan för de som har sådana. "
I America artikeln påminns också om hur kardinal Sarah utmålar de 2 största hoten mot familjen.
"He said that "gender ideology," in which he includes homosexuality and radical Islam, were "two major threats to the family," calling them "demonic" and saying they are both "destroyers of family."
"Vad nazism – fascism och kommunism var på 1900-talet motsvaras idag av västerlandets ideologi om homosexualitet och abort och islamsk fanatism."
https://www.americamagazine.org/faith/2017/08/31/cardinal-sarah-offers-critique-lgbt-book-father-james-martin-responds

// Irène
PS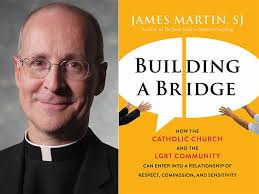 "On the day after the Orlando nightclub shooting, James Martin S.J. posted a video on Facebook in which he called for solidarity with our LGBT brothers and sisters. "The largest mass shooting in US history took place at a gay club and the LGBT community has been profoundly affected," he began. He then implored his fellow Catholics—and people everywhere—to "stand not only with the people of Orlando but also with their LGBT brothers and sisters." A powerful call for tolerance, acceptance, and support—and a reminder of Jesus' message for us to love one another—Father Martin's post went viral and was viewed more than 1.6 million times."

https://www.amazon.com/Building-Bridge-Relationship-Compassion-Sensitivity/dp/0062694316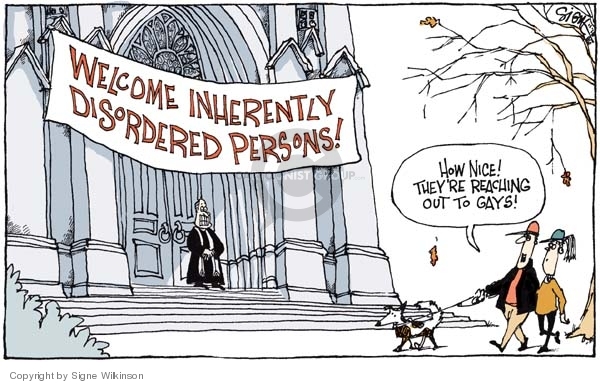 Jag recyclar min favoritbild av Katolska Kyrkans välkomnande av homosexuella nu som en illustration till kardinal Sarahs uttalande.