Published by Irène Nordgren on 13 jan 2018 at 01:46 e m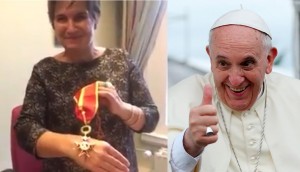 Franciskus belönar fd minister i Nederländerna Lilianne Ploumen som skapat fond för säkra aborter och förebyggande av ofrivilliga graviditeter.
"On January 12, reports began surfacing on Twitter that Lilianne Ploumen, former Minister for Foreign Trade and Development Cooperation in the Netherlands, was honored by Pope Francis with the title of Commander in the Pontifical Equestrian Order of St. Gregory the Great. The Lepanto Institute was able to confirm from a December 22, 2017 Dutch radio broadcast that Ploumen indeed received the honor. In a brief video clip promoting the broadcast, Ploumen displays the medal while saying that she received it from the Pope."

http://www.lepantoinstitute.org/pope-francis/pope-francis-awards-architect-safe-abortion-fund-pontifical-honor/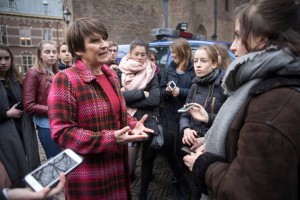 Bild från febr 2017
"Lilianne Ploumen, minister of foreign trade and development cooperation in the Netherlands, talked with students ahead of the weekly cabinet meeting on Feb. 3."
https://www.nytimes.com/2017/02/20/health/lilianne-ploumen-abortion-gag-rule-she-decides.html
// Irène
PS Jag är mäkta imponerad av Franciskus som vågar utmana sina fiender genom denna utmärkelse.
All heder åt Franciskus. Jag ger honom tapperhetsmedalj.
3 Responses to "Hear hear ! Franciskus värd tapperhetsmedalj !"
Charlotte Åkerlind on 13 jan 2018 at 14:25 #

So do I!

Irene Nordgren on 13 jan 2018 at 16:18 #

Charlotte

Kanske föööör bra för att vara sant….Vi får tyvärr vänta med att ta ut glädjen och hylla Franciskus. Nu cirkulerar rykten om fake news…..// Irene

Irène Nordgren on 16 jan 2018 at 13:08 #

Här är förklaringen till den påvliga utmärkelsen / Helige Gregorius medaljen / till fd nederländska ministern Lilianne Ploumen.
Hon fick medaljen i samband med att hon medföljde Nederländernas kungapar på deras officiella statsbesök i Vatikanen i juni 2016.

Lilianne Ploemen uppfattar dock själv att hon fick medaljen TROTS att hon gjort sig känd för bla ha startat den globala rörelsen She Decides vars syfte är att

"support the fundamental rights of girls and women to decide freely and for themselves about their sexual lives, including whether, when, with whom and how many children they have. This includes having access to modern contraception, to sexual and relationship literacy and safe abortion."

https://www.shedecides.com/what-is-she-decides

http://www.papalknights.org/greg.html

http://royalcentral.co.uk/europe/netherlands/dutch-monarchs-to-visit-italy-and-the-vatican-city-76954

https://onepeterfive.com/global-abortion-advocate-lilianne-ploumen-claims-papal-award-is-confirmation-of-her-work/?utm_source=feedburner&utm_medium=feed&utm_campaign=Feed%3A+Onepeterfive+%28OnePeterFive%29

// Irène
Leave a Reply