Published by Irène Nordgren on 24 okt 2019
Jag skriver i DAGEN "Katolsk media döljer fakta kring helgon"
"Sankt John Henry Newman: det första öppet homosexuella katolska helgonet?" Så löd rubriken på organisationen New Ways Ministry's blogg den 13 oktober, samma dag som kardinal John Henry Newman helgonförklarades av påven Franciskus."
https://www.dagen.se/debatt/katolsk-media-doljer-fakta-om-helgon-1.1605733
// Irène
PS Olle Brandt skriver i SIGNUM 13 oktober – dagen för helgonförklaringen.
signum.se/john-henry-newman-helgonforklarad-2/
John Sjögren samtalar med entusiastiske Magnus Nyman i Signumpodden under nästan 1 timme några dagar före helgonförklaringen – utan ett ljud om Newman och Ambrose St. John och deras önskemål att få bli begravda i samma grav och om omflyttningen. Magnus Nyman refererar bla till Ian Ker – levnadstecknare och världsauktorietet på Newman. Magnus Nyman lyckas trots det att undvika att nämna att Ian Ker faktiskt omnämner relationen mellan John Henry Newman och Ambrose St John om än i Ian Kers egen definition av "kärleken till en bror" https://r4j68.app.goo.gl/?link=https%3A%2F%2Fwww.podbean.com%2Fmedia%2Fshare%2Fpb-hm7bf-c2d213&utm_campaign=w_share_ep&utm_source=w_share&utm_medium=dlink&ct=w_share_ep&ibi=com.podbean.app.podcast&ipbi=com.podbean.app.podcast&isi=973361050&imv=670&apn=com.podbean.app.podcast&amv=530
ITV Ian Ker tar upp relationen till Ambrose St John och jämför den med "kärleken till en bror."
"The Catholic church has since been forced to defend Cardinal Newman against accusations that he was gay – after it became widely known he had left strict instructions to be buried in the same grave as his great friend, Father Ambrose St John. Father Ian Ker, a world authority on Cardinal Newman, writing in a Catholic Truth Society pamphlet, said Fr St John was the "equivalent of a brother" to the Cardinal. "In an age that has almost lost the concept of affectionate friendship untouched by sexual attraction, such speculation was no doubt inevitable," he said."
://www.itv.com/news/2019-10-13/who-was-cardinal-newman-and-why-is-he-becoming-a-saint/
The Telegraph 19 juli 2008 " Vatican orders Cardinal Newman to be parted from priest friend in shared grave"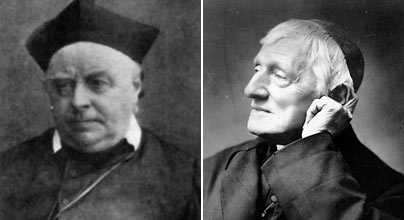 https://www.telegraph.co.uk/news/religion/2435907/Vatican-orders-Cardinal-Newman-to-be-parted-from-priest-friend-in-shared-grave.html
Eftersom katolska kyrkan i Sverige ansträngt sig till det yttersta att förtiga vissa fakta kring det nya helgonet är det förståeligt att Inger Alestig inte känt till dessa när hon 16 okt i DAGEN skriver om helgonförklaringen av Newman.
https://www.dagen.se/nyheter/katolske-kardinalen-john-henry-newman-helgonforklaras-1.1600080